I have 2 cards for you today which I am also sharing on the
Card A Day Blog
.
I can't tell you which card is for who (mother, step-mother or mother-in-law) as they all read my blog and I want it to be a "little" bit of a surprise at least. ;)
I used a sketch by
Michelle Stewart
for these cards. Keep an eye out for something exciting along these lines being announced in the next week or so.
Card 1:
I can honestly say I am still totally undecided as to whether or not a sentiment will go on the front of this or not. I plan to say "Relax..." and then inside "...you deserve it! Happy Mother's Day!" but not sure if I might just put the whole thing on the inside as I kind of like the front of this one as it is and think the sentiment might actually take away from it.... what do you think? I think I'm just going through a phase of no sentiment cards or something as I can honestly say I have not stamped a sentiment on a card front (with the exception of some designs I was doing of Michelle's from our joint card class) in well over a month.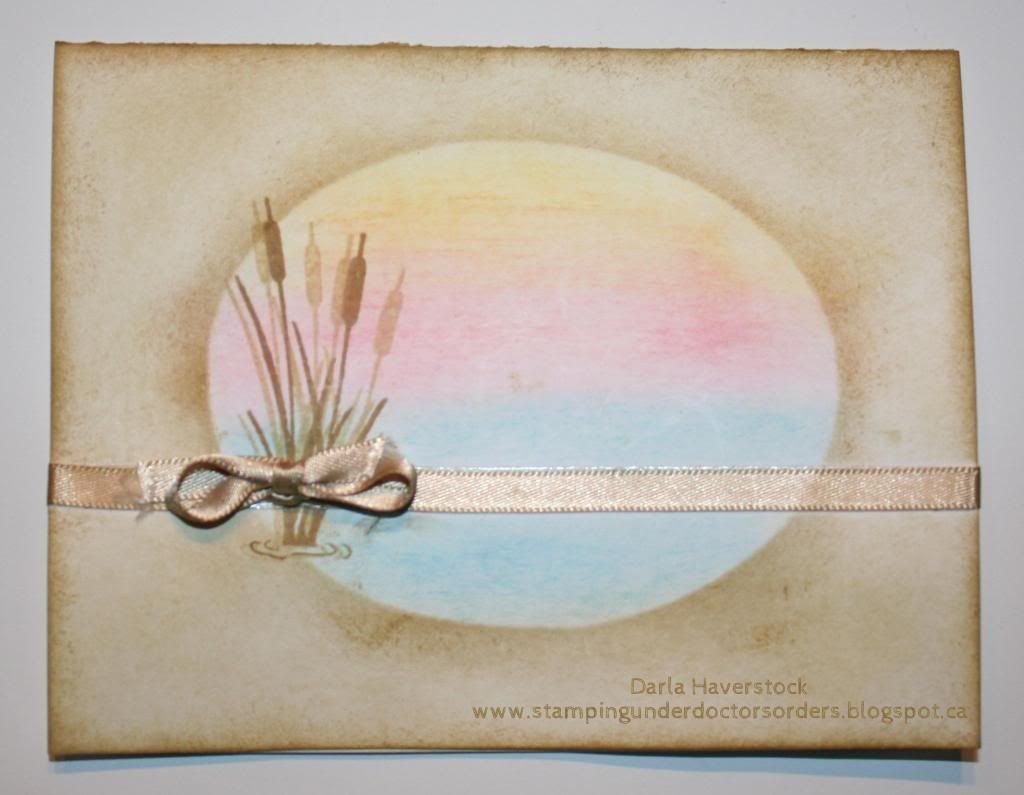 This is a one layer card meaning it is just all done directly on the card base so nothing is glued on or taped on at all (other than the ribbon of course).
I cut an oval using the cricut (both Art Philosophy and Artiste have them as well as many other cartridges) and used it to mask the card off. With the outer part masked off I used the watercolour pencils and put the sunny yellow, bubblegum and crystal blue down and wet with a babywipe (my new favourite technique I came across by accident... more about that in a post later on this week). Then I used the oval piece to cover over my sky line and sponge Bamboo and Desert Sand around the edge of the oval, the edges of the card and then lightly around in between.
I used a stamp from Gina K. Designs by Theresa Momber called "Life is Good" stamped in desert san and then a few times in bamboo as well. I added a piece of ribbon I had a whole bunch of in my stash.
Card 2:
Much the same as the first being a 1 layer card, and again... no sentiment on the front. ;)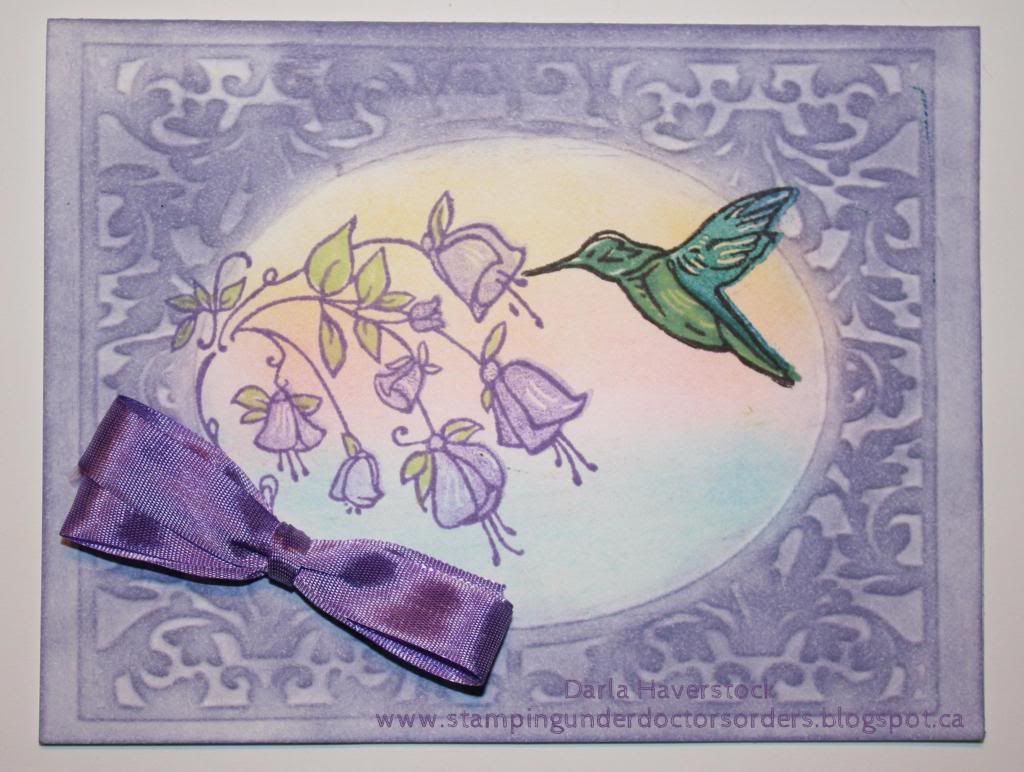 This time I cut a frame out of stencil plastic from the Fancy Frames cartridge and used my eBosser with the silicone mat to emboss it into the card front. I brushed over the embossed areas with my gypsy stamp pad. Instead of the watercolour pencils I decided to sponge the colour on for this one using buttercup, blush and sky. I used a gypsy alcohol marker to colour some color ready seam binding. The stamp set I used is a retired set C1389 So Sweet. I stamped with gypsy for the flower outlines, gypsy in second generation for the solid parts of the flowers. I used lagoon and Juniper for the hummingbird, I also used my Pear alcohol marker to colour in the leaves.
Hope you enjoyed my cards.
Products Used: