Today I have a little get well card to over on the
Card a Day Blog
to share here with you.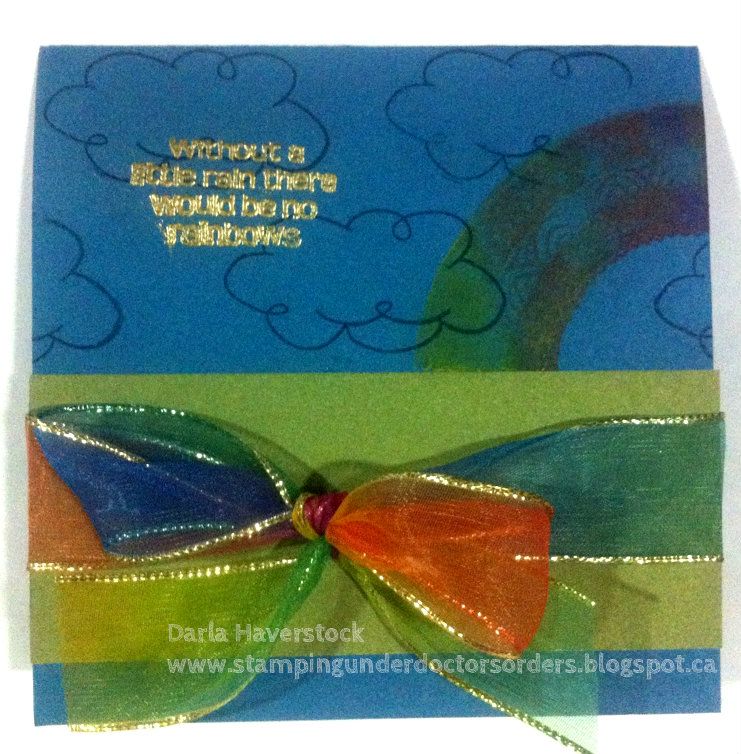 The sentiment reads "Without a little rain there would be no rainbows". I could not for the life of me get a picture that showed the sentiment clearly... sorry.
I used Pacifica cardstock for my base (it's a 4" square card). The green strip is Olive cardstock and the ribbon is an Offray brand ribbon that I've had in my stash for a very long time but I think goes absolutely perfect with this card. All of the stamps are from the "
A Rainbow
" stamp set which is an awesome stamp set for just $6.95!! The rainbow is stamped using a rainbow pigment inkpad I happen to have but our new pigment inks would have worked wonderfully for this too (I realized after I had already inked up my stamp of course).
This could also easily be a pick me up card or a don't lose hope card depending on what you write on the inside.I haven't actually written on the inside of this one yet as I am sticking this one in my stash for when I need it, however a few suggestions would be:
...Hoping you see your rainbow soon.
...Sending an umbrella to make the rain more bearable.
...Chasing the clouds away.
...You may as well dance in the rain while it's here
or I'm sure you could probably come up with something even better!! :)
Please go over to the
Card a Day Blog
and check out all of the other wonderful cards by the other designers there as well.
Products Used
: