Today I have a card over at the
Card A Day
blog.
I had every intention to share a detailed, intricate and time consuming card for my post, however when I saw the theme "Thank You" I knew I just had to share this instead.
Many people in my life (past and present) have battled with cancer. Anyone that has ever been around anyone battling cancer knows that you always feel so helpless whether you are the one fighting, a friend of or family of.... I decided I would do what I knew I "could" do. Our cancer center has what is called a "Sunshine Room". This is a place where cancer patients and caregivers of those patients can go to relax, receive complementary therapies and chat with counsellors or other various services offered. You can read more about it
here
. One of the things a few of my friends that battled often asked for were thank you cards as they didn't have the energy/money to go and get thank you cards for the many people who often step in to help in some small or large way for them. I thought it would be nice to make a whole pile of simple thank you cards and give them to the Sunshine Room for patients and caregivers to take for their use as needed/wanted.
Here is the first of many....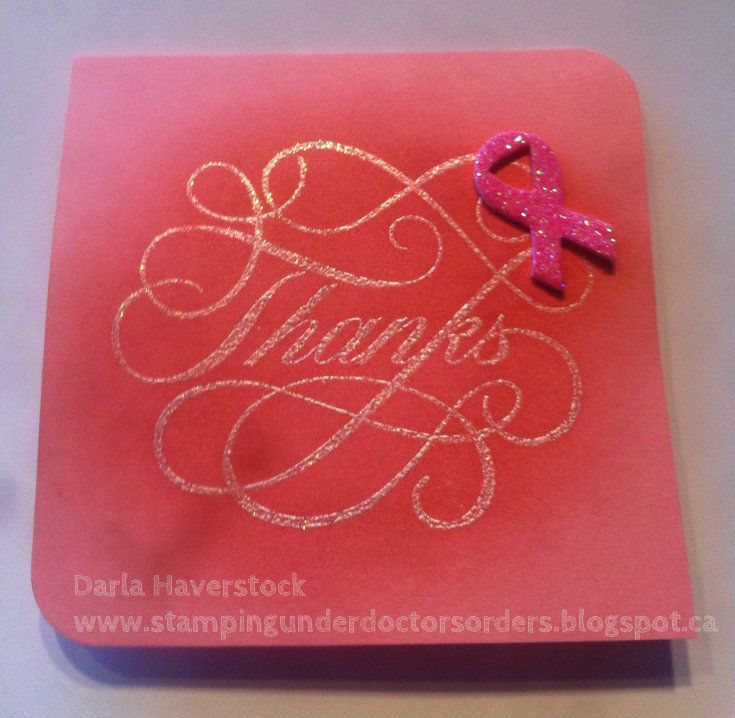 The picture does not do this card justice. The "Thanks" stamp is stamped in versamark and embossed with Ranger "Bridal" embossing tinsel so it is very glittery. I used my cotton candy ink and a sponge dauber to go over the embossed area to really make it stand out. I picked up hundreds of the little pink ribbons which are craft foam covered in glitter and will be making my own in other colours for the other various cancer colours. I finished it off by simply rounding 2 of the corners to make is just a little bit different. The card itself measures 3 1/2" square so it's not very big and won't require a huge message to be written inside to fill the space.
I hope you like my card today, and maybe even feel so inclined to make a few yourself as most cancer centers will accept cards.