When you're all done checking out my project please scroll down to the bottom of my post where you will find links for all the other Design Teams creations as well as a direct link to this weeks sketch with the current entries so far as they are fantastic! :)
Today I have a card for you made using Sketch #5 from
Atlantic Hearts Sketch Challenge blog
.
I have to admit that I made what I consider to be the biggest mistake you can ever make with the sketch this week. I looked at the creations by the other design team before completely committing to my own. Of course 2 of the other design team members had done something very similar to what my original plan was.
I was stumped! okay.. so that might be a bit of an exaggeration since I was only "stumped" for about a minute.
I looked over at my children drawing (they usually create projects while mommy thinks about hers and sometimes even manages to create) at the table in front of me, my 4 year old son, Michael had drawn a picture of a heart and was working on cutting it out. I asked him what the heart was for and his answer "It's for you to use on your card that you're going to make.", "oh is it?" I replied (now desperately trying to think of either how I was going to incorporate it in or a really good excuse why I couldn't), "yes" he said "it's a heart to go in your pocket so you can carry it with you for all time". DING!! Light bulb went on immediately. Daddy is being deployed in July for 6 months so this was PERFECT! Not only had he completed the idea (he had seen me working on a pocket card earlier for something else and assumed it was what I was making for this) but he had also come up with my sentiment for inside.
What do you all think? It met his complete approval, which is rare.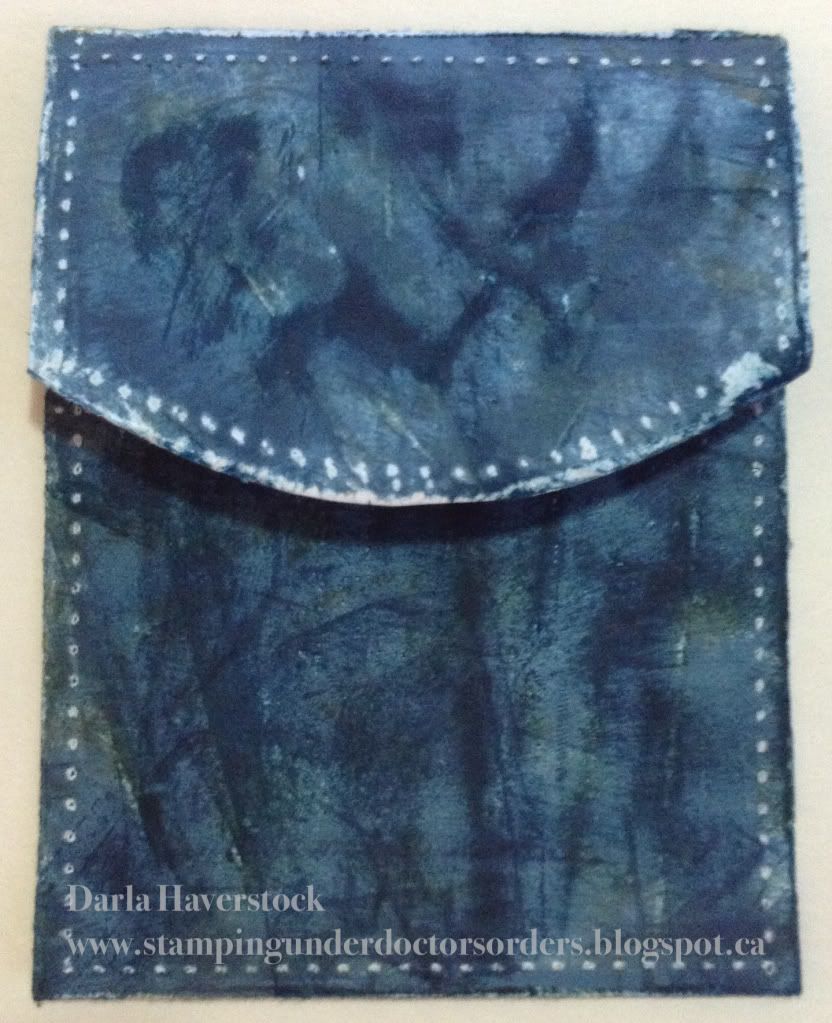 I had to reinforce the top flap and middle section with an extra piece of cardstock because I sanded it to distress it and then inked and then sanded some more and I had already scored the cardstock and folded it so it started to rip right through along the fold line. Now it's extra sturdy though and I know it won't come apart.
The base is Pacifica cardstock cut to 4.25" x 12" and scored at 3.5" and 9". I used a cd to trace the rounded edge and then cut it out. The entire thing was sanded (put your cardstock over the edge of a table if you want to create sanded lines to create a wrinkled and worn effect instead of an even sanding), distressed with my Edge Distresser along the edges as well to really rough them up like a comfy pair of jeans, then I took my desert sand, Pacifica and Indian Corn Blue ink pads and brushed them lightly across everything.
The shorter of the two flaps was glued to the middle only along the side to create a pocket. I then used a ruler for the straight edges and lightly drew a pencil line .25" in all the way around and just eye-balled it for the curved edge and used my scor-buddy and a scor-bug embosser to emboss little dots all the way around the edge quickly (I had to put it on a piece of cardboard and just follow the curved line by hand). Flip to the front side and sand to reveal the white core of the cardstock for the "stitching". The sentiment is just hand written with a Journaling Pen.
Please go check out the rest of the Design Teams creations here and the Sketch I used and all the current entries here.
Products Used: