Welcome to our September ARTISTE Blog Hop! Each month we are showcasing the amazing, exclusive ARTISTE Cricut cartridge which can be only purchased through a Close to My Heart Independent Consultant.We don't want to scare you but Halloween is a little over a month away and we know you have to be thinking about what YOU are going to create for this spooky holiday! We decided to show you all the creative projects you can make using our exclusive Artiste Cricut cartridge. You will be hopping along our haunted trail of creativity - you never know what you will see next!If you just happened to come to this blog, you should start at the beginning at Lucy's blog Also, to help you get ready to start making your own Halloween projects Lucy has some blog candy for you! She is giving away a Moonlight Complements Dimensional Elements pack! That's two (2) sheets of Printed Dimensional Elements that you can use to create your own Halloween project! There is a picture of the blog candy on her blog. All you have to do to be eligible to win is to leave a comment on everyone's blog AND become a follower of Lucy's blog. (If you are already a follower, just let her know in your comment.)
Okay.. first I need to apologize. If you came to visit my blog earlier blogger apparently did not keep all the updates I did to my post so all you saw was a Christmas themed project. I'm sure you all had thought I lost my mind!
The truth is I was working away on my project for this hop and looking through the handbook I got excited to try the holder you will see below and I wanted a bunch of cards to put in it so I pulled out my
Pear & Partridge Workshop On The Go Cardmaking Kit
and got working on the cards. I also didn't like the plain squares so as you will see below I switched it out for a shape from the
Artiste cartridge
as well.
Now.. 2 days ago I was going through the hop write up and editing my post for you all when I realized that I had completely ignored the hop theme "Halloween" so a complete re-do was in order! I edited the whole thing and re-scheduled it to post but apparently blogger really liked my Chrsitmas project as it reverted the whole post back to that. Good new is now I'm going to show you both today instead of saving the Christmas one for tomorrow like I was going to had blogger cooperated. :)
I decided I still wanted to use the same concept.. so I switched out the Pear & Partridge B&T for the
Moonlight B&T
. I embossed my card base and ran my
cocoa ink pad
over the embossing to highlight it and instead of using stamps I cut the phrase "Eek!" from page 76 of the Artiste handbook and I also added the spider (accent 4 with shift on page 77) cut from more of the same left over
cocoa cardstock
from the
Pear & Partridge Workshop On The Go Cardmaking Kit
, seriously I wonder how many more projects I can make from this kit?? I added some
color ready seam binding
that I died with the Olive stamp pad and eur"eek"a a Halloween themed project to share for you.
Here are some pictures of my Halloween theme card and holder set: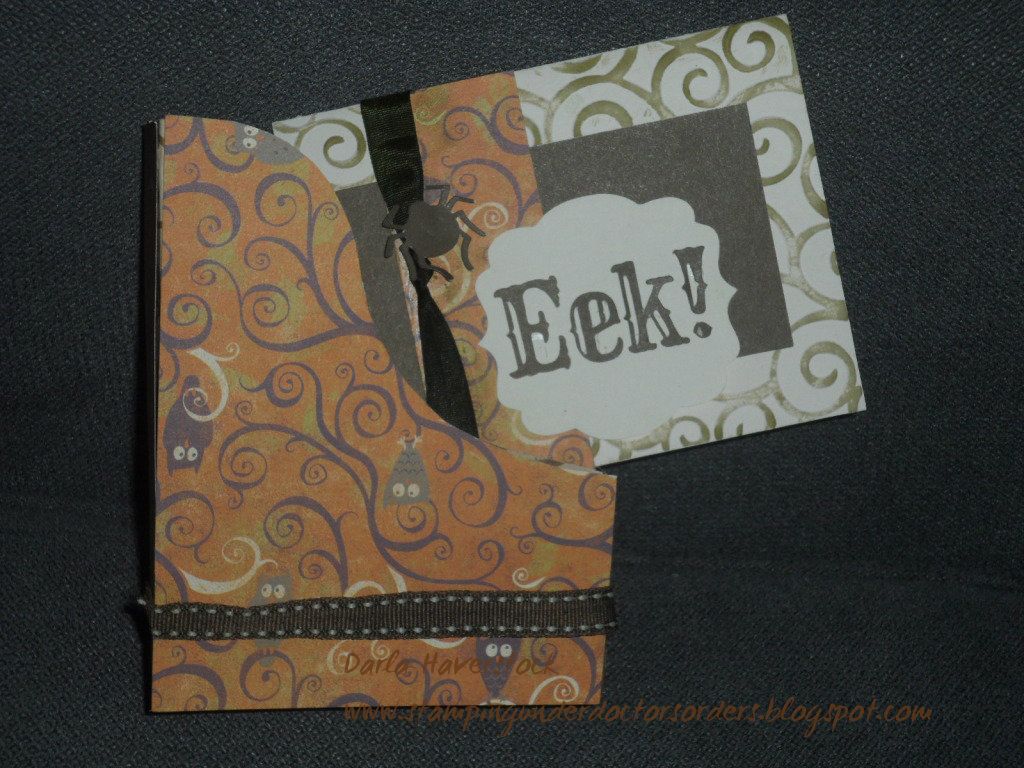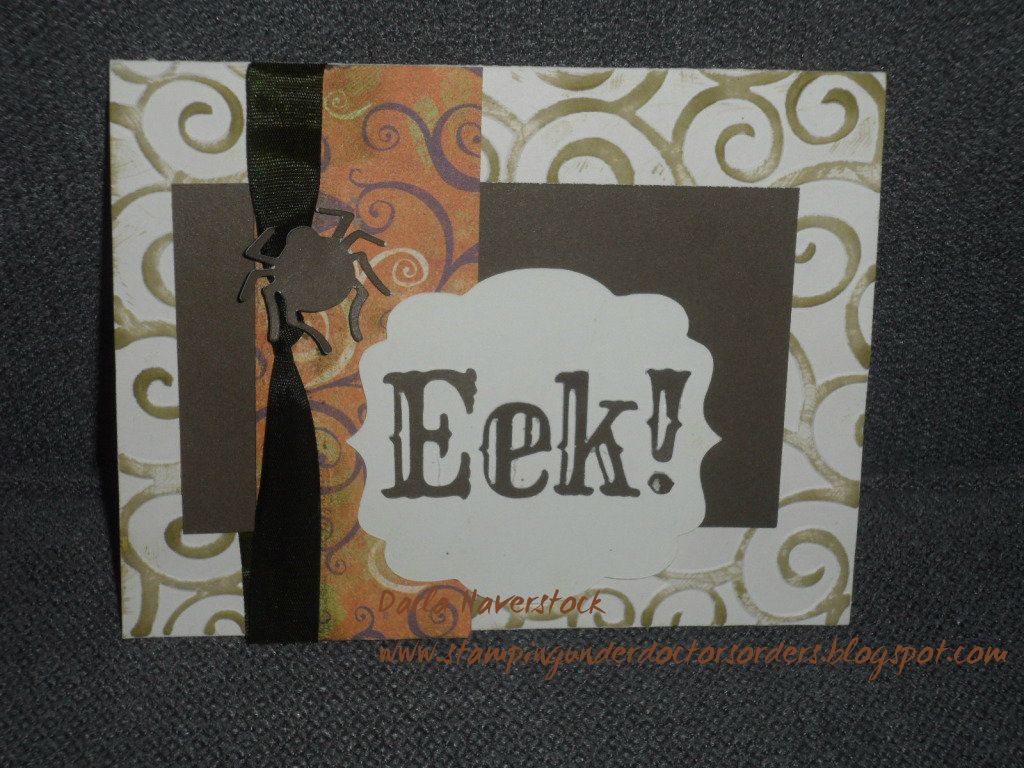 Now for more details on the shapes and to see what the Christmas themed one looks like and how easy it was to switch just scroll down and you can see my post that anyone that came this morning saw as well as you will find the hop lineup and your next stop at the end.
Let me know which one do you like best??
If you don't want to see the Christmas one and just want to be on your way to the next stop.. The next stop on the haunted trail is
Diana - Dianas Free Moments
and you're going to love what she has for you.
Today I used the
Pear & Partridge Workshop On The Go Cardmaking Kit
and essentially used the projects exactly as the workshop instructions that come in the kit say to..
except
I found the plain squares for the focal images boring so I used the Accent 3 shape from page 61 of the
Artiste Cricut Cartridge
for 2 out of the 3 card designs in the kit.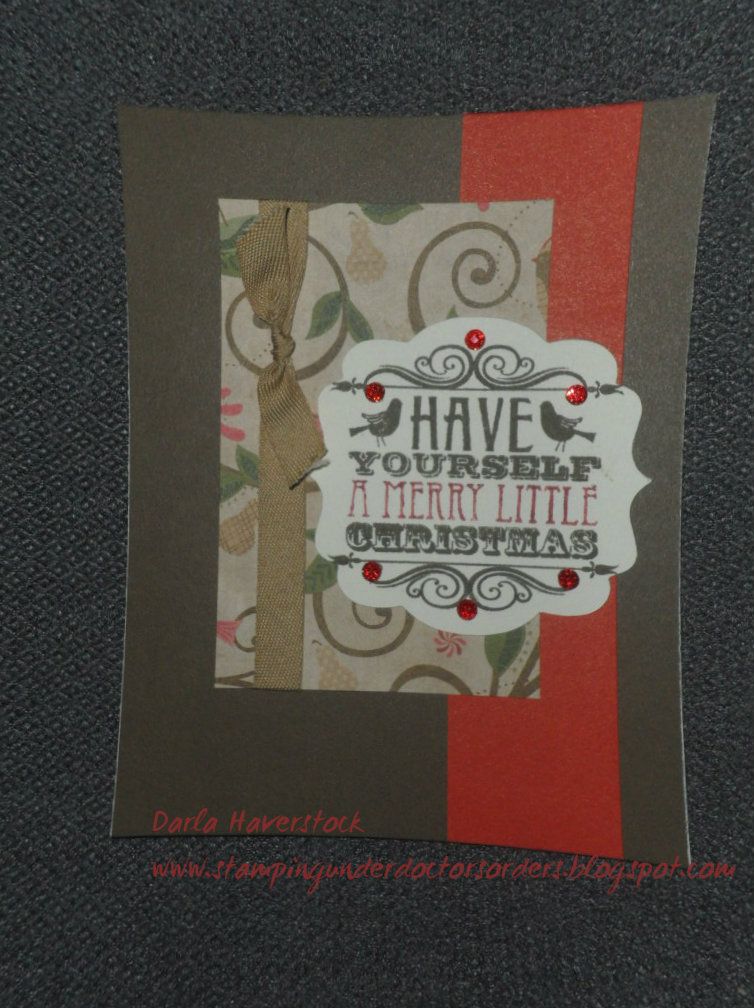 I also added a little holder for all the cards using the paper left in the package after making all 15 of these cards, yep... you heard me.. there was paper left over and actually still is a bit left after making the holder.
For the holder I cut the Accent 3 shape on page 47 of the
Artiste Cartridge
from my left over
Pear & Partridge B&T
from this kit and the Accent 3 with the shift key on page 47 of the
Artiste Cartridge
from the left over
Cocoa cardstock
from the kit. I think I will embellish the holder a bit more... maybe add some ribbon and bling! :) What do you think?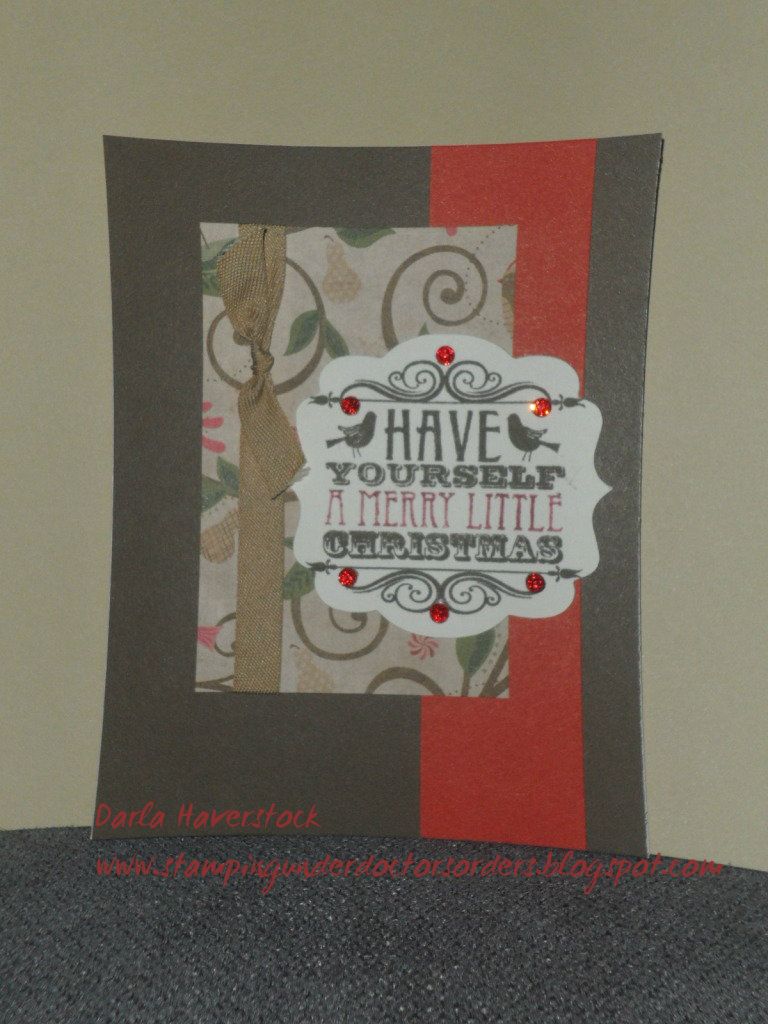 I used the
Cranberry marker
to ink the "A MERRY LITTLE" on this card instead of cutting out a seperate piece and masking it and inking in the cranberry ink I just found this went faster.
I just love the stamp set that came in the
Pear & Partridge Cardmaking Kit
as well. It's so cute and versatile! It has 6 sentiments (one being that lovely one with the birds and filigree on it to be used as a focal image), 3 different present, 3 different ornaments, the string for the ornament, 2 partridge birds and a branch. I can see myself grabbing this set a lot.
Products Used:
The next stop on the haunted trail is Diana -
Dianas Free Moments
Here's the entire blog hop lineup in case you get spooked along the way:
Thanks for stopping by for some Halloween fun -- hope we didn't scare the creativity out of you! Muah-ha-ha!