Welcome to our April Blog Hop featuring a Home Decor project of our choosing.
The items I chose to use are:
We hope that you will take the time to leave comments on our posts, as we love to get feedback from our viewers....whether it was something that you really liked or some new technique that was used that you would like to learn how to do....by leaving us comments, we get to hear what you like, and what you want to see. Thank you… now on to our hop! If you have just hopped onto my blog, you can start here as this is a circular hop, but if you want to follow us across Canada then please start at the beginning and join Michelle at
My Creations With Michelle
. If you came from Michelle at
My Creations With Michelle
then you are in the right place!
Well, it has been quite the week at my house with many trips to emergency and doctor clinics. First an appointment with the Otolaryngology clinic (Ear nose throat clinic) for my son for some ongoing issues with his throat. Then my son got a little too close at exactly the wrong time while helping daddy lay patio blocks resulting in a gash on his forehead from the shovel and a trip to emergency. Next was my daughters opthalmology specialist appointment (eye clinic) which was a full day event, then a trip to our family doctor to have my sons tetanus updated and to get my daughter checked out for a high fever which turned out to be an ear infection... just got her started on antibiotics and it was back to doctors office with my son as he got strep throat... again. Sheesh.. I think I spend more time in the hospital now with my children than I did when I worked there full time. Alright... rant over! ;)
After my crazy week I really needed something cheery so how about some flowers that won't turn around and die on me?! :)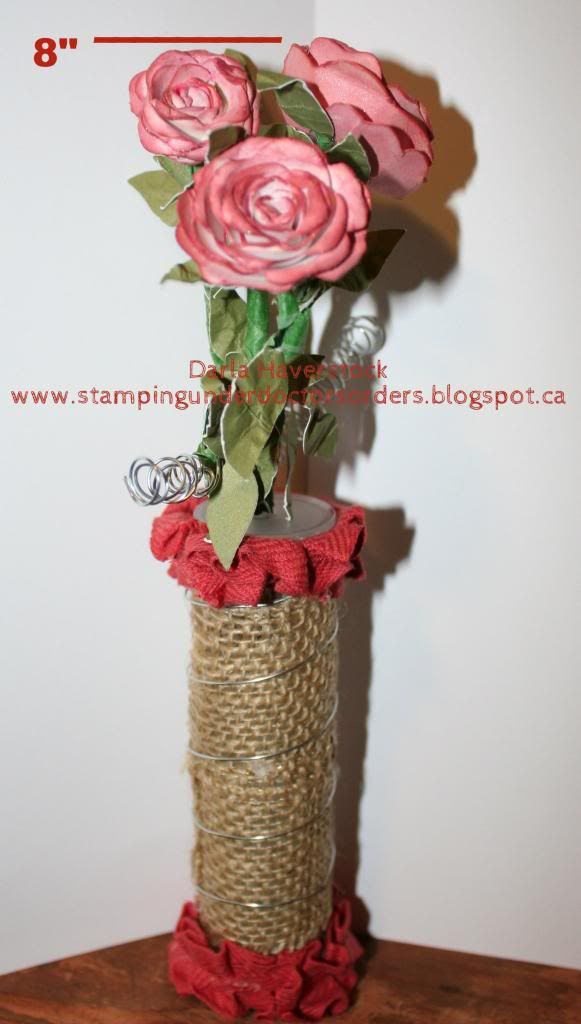 I took the treat tube, drilled a little hole in the top and decorated it with some burlap ribbon as well as some red ribbon that I got a while ago from the While Supplies Last section (always a great place to get some awesome deals!) and then cut out a few roses in varying sizes (Accent 3 on page 54) from the Artiste cricut cartridge.
I cut some leaves from the cartridge as well (shift + 3D object page 54) which I crinkled up to give them some dimension. It was at this point that I realized I was all out of floral tape so I stole the green painters tape from hubbys toolbox and used it instead.
I mixed up some
ruby re-inker
, water and
pearl paint
mixture and painted it on the flower where I wanted to add a bit of colour to it. I then used a little bit of straight re-inker painted on to add a deeper shade in some places.
A few little wire twirls in with the roses as well as one piece wrapped around the outside of the burlap ribbon to tie it all together finished it off.

It's just the right size so it doesn't take up much real estate on my craft table.
Your next stop on the Cross Canada Hop is Rosalynd of In My Scrappin' Room. If you get lost along the way, you can head to Michelle at
My Creations With Michelle
blog, as she has the complete blog list.Thanks for hopping along with us - we hope we were able to inspire you to create your own projects using some of the designs and paper seen along the way. Join us again in May when we will be featuring some Canvas projects.