The theme over at the
Card A Day Blog
today is Teacher Appreciation (which is the other place you will see this card posted today). :)
Those of you that know me personally (or actually read all my rambling on my blog posts) know I have a son who is 4 and attends preschool once a week.
For my Teacher Appreciation card I really wanted to make it about the real reason we appreciate them the most in our house and that is for the huge smile on Michael's face when we tell him it's preschool day and again when we pick him up.
It's the enjoyment they put into everything they teach them that makes those smiles happen and for that we are very appreciative!
I also tried to make this personalized by colouring the picture as close to Michael as possible. For the record... red hair is really hard to colour!!! Those that know Michael, how did I do?
The inside reads.. "Thank you for helping create them!"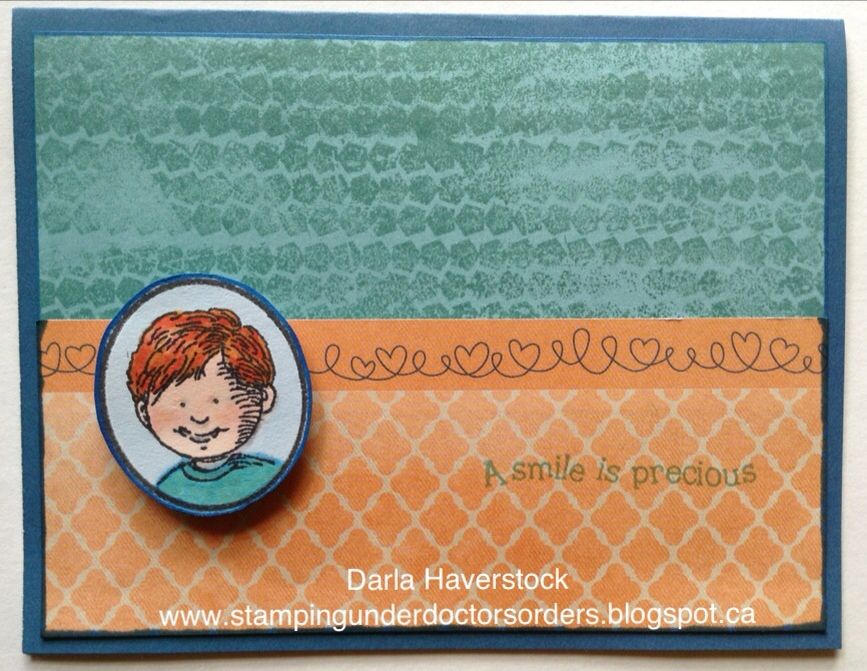 The paper on the top half is Crystal Blue stamped with Juniper ink and the Fast and Furious stamp set. The bottom half is the Claire B&T paper with the zip strip still on it to create the center piece. The card base in Pacifica cardstock. The sentiment is stamped in Juniper ink as well. The stamp set I used is an Operation Smile stamp set that consultant can order. It has the CUTEST kid faces on it as well as the oval frame and some sentiments like the one I used here. The oval with the image is popped up on foam tape to add some dimension.
By the way, if you were ever thinking of signing up as a consultant to take advantage of all the consultant benefits (like being able to order this great Operation Smile stamp set) this is the month to do it! This month when you sign up as a new consultant you get 4 stamp of the month sets free (April, May, June and July). These D-size stamp sets are a great way for a new Consultant to create artwork, bring to Gatherings, and show off to everyone to kick start their business. Check out the details
here
and please contact me if I can offer any assistance or information to help you decide if you need it.
Products Used: