My card for Sketch #6 from Atlantic Hearts Sketch Challenge is a fun one. Great for a kids birthday OR to celebrate going to Close To My Heart convention 2013 in Disney World!! Yay!!
Only 20 more days until Michelle and I board a flight to Florida with fellow consultant Rosalynd. Once there we will meet up with MANY other consultants (I think someone said there were over 2000 at last years convention) and get crafty with the products being released with the Autumn/Winter Idea Book that will come out August 1. Definitely something to celebrate!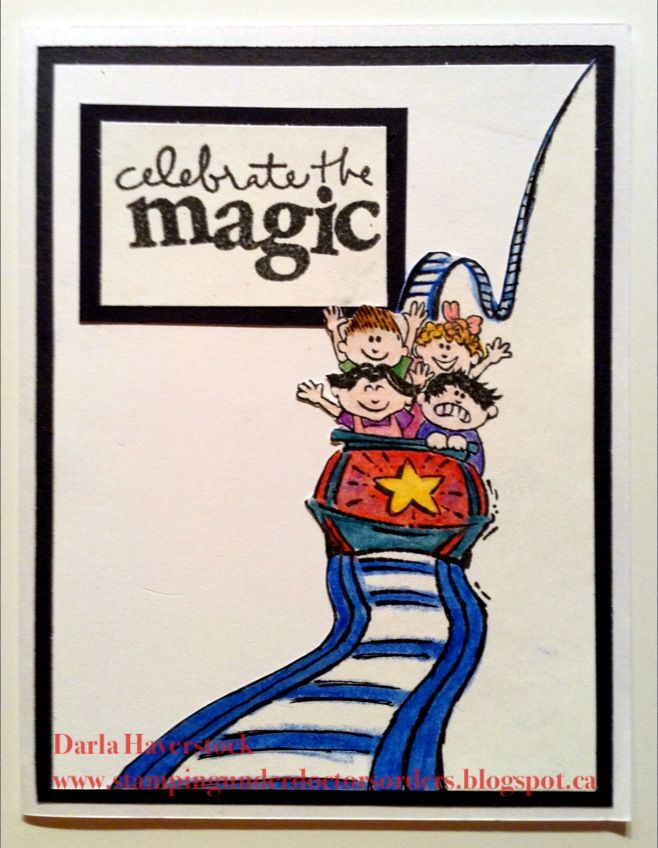 I used a retired stamp set for this card called Magic Adventures D1509. I used my journaling pen to extend the roller coaster track a little bit in front and a bit in back as well (bet you can't even tell where the actual stamped image ends and my hand drawn line begins... and now you're trying to find it just because I said that haha). I used my watercolour pencils to colour the image and then I hand cut along the sentiment side of the track and car so I could slide my sentiment piece underneath. The picture makes it look black but the mats are actually Outdoor Denim.
I honestly envisioned the sentiment going lower like the sketch but I glued down the whole coaster side before really placing everything to realize it wouldn't fit lower and have a chance to trim some off on the right to allow for it. Oh well. :)
Speaking of celebrations, this months specials are definitely something to celebrate! There are four.. yes
four
specials this month and technically one of the specials could be broken down into three more.
Check them out and then please head over to the post at
Atlantic Hearts Sketch Challenge Blog
to see the rest of the Design Teams creations as well as the Top 3 from last weeks sketch ....
1st
is a great campaign where for just $2.95 you can grab M1029 - "
A True Thank You
", a teaser stamp set from the Autumn/Winter idea book and better yet, all the proceeds are being donated to relief efforts for Oklahoma. Check out this great stamp...
2nd
is technically three great promotions and also is something that hits very close to home with me. Most of you know that my husband is in the Canadian Navy and has been for the last 16 years, my late father-in-law was in the Canadian Air Force and many other family members serve in both US and Canadian military.
What does this promotion have to do with any of that... well it's 3 great limited edition stamp sets of which Close To My Heart will donate $3 from each B-size My Acrylix®
Courage
stamp set and $5 from each D-size My Acrylix®
Home of the Brave
stamp set to the USO, the leading, most recognized military-support and services organization in the United States, or $3 from each B-size My Acrylix® Courage stamp set and $5 from each D-size My Acrylix®
Strong and Free
stamp set to the Canadian Hero Fund, which supports spouses and children of fallen Canadian military troops by providing post-secondary education in Canada.
3rd is if you place a $25 order that includes a stamp set, you'll receive a My Creations® mini banner for free! The mini banner includes 10 chipboard pennants in 4 different shapes with 9 jump rings for hanging.
Last but not least of course is this months Stamp Of The Month set which is just $5 with every $50 order.
Now head over to the post at Atlantic Hearts Sketch Challenge Blog to see the rest of the Design Teams creations as well as the Top 3 from last weeks sketch.