Welcome to our Autumn Art Philosophy Blog Hop!
Each month we are showcasing our amazing Art Philosophy Cricut cartridge which can be purchased exclusively through a Close to My Heart Independent Consultant.
It's the time of year where leaves are changing colors, temperatures are dropping, the days are shorter, and the holidays are quickly approaching. This month we will be featuring projects with an Autumn theme made using the Art Philosophy Cricut cartridge!

If you just happened to come to this blog, you should start at the beginning at Lucy's blog - Love 2 Create. If you came here from Lucy's blog - Love 2 Create, then you're in the right place!
I decided to create stencils to make my background using some of the leaf and branch cuts from the
Art Philosophy Cricut cartridge
. The images I used can be found on pages 34, 43, 56 and 62.
Here's a photo of my finished project: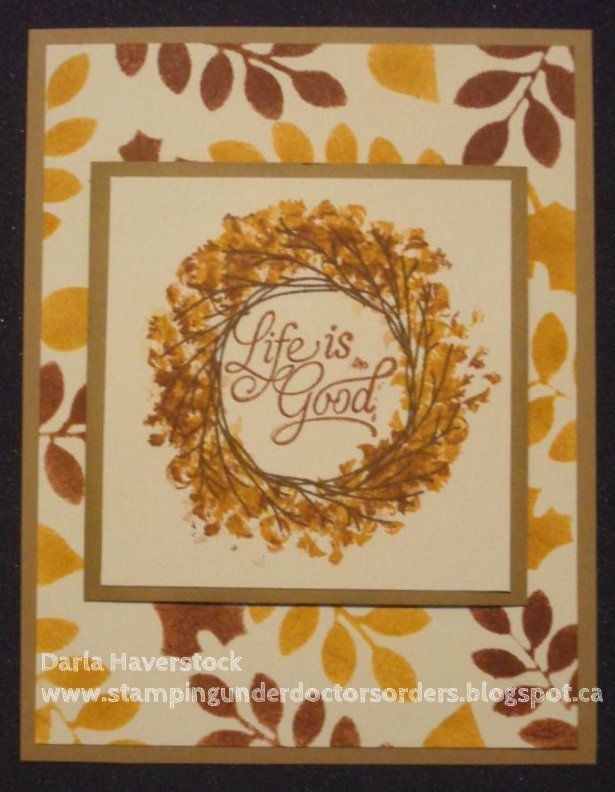 I used the
Art Philosophy Cricut cartridge
in Cricut Craft Room to make a stencil for the background. I used Kraft cardstock and Colonial White. I used the
Remarkable Wreath
stamp set and stamped the wreath base in
Chocolate
ink and then inked the leaves for the wreath in
Goldrush
and then just tapped it randomly against the corner of my
Barn Red
stamp pad to give it a variegated effect. I then stamped the sentiment in the center using the
Barn Red
again.
I used my sponge daubers and the same ink colours on my background layer with the stencils I made (more info on how I did this below), you could also use the round sponge for this too. I popped my layer of kraft with my main image on it up on foam tape to give the card a bit more dimension.
If you want to skip my little tutorial on the stencils for the background then your next stop on the hop is Diana - Dianas Free Moments, although I'd love for you to scroll down and leave me a comment on what you think before you go. ;)If you stayed to see my tutorial... Here's how I made my background:
I laid out my entire layout how I wanted it to look using the layers in Cricut Craft Room. It's great doing it this way since you can change your colours around and everything of your layers so you can really see how the end project will look. I also added a larger rectangle with 2 circles in the top corners on each of the leaf layers (I have kept these out of the screen shot because once you add these you can't see your leaves anymore and I wanted you to see how it looked all laid out so I have put this same rectangle and circles on a seperate layer in blue behind everything so you can see what I mean. I used this rectangle and circles to align my stencil correctly (which you will see in the step by step photos). You can see that I also put some branches around in a circle to symbolize the stamp I used.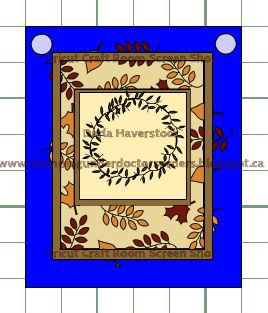 I also cut one of those same rectangles with the circles out of it with the colonial white rectangle for my pattern as well. This allowed me to stick that down on my craft mat and then I could put my cut cardstock in the opening so I knew everything would line up exactly as it did on my screen.
Now I used the circles to line up my layer that was red on my CCR screen which was a rectangle with the circles and all the red leaves cut out of it, and then I sponged my
Barn Red
ink through the stencil, knowing it would end up in exactly the same place on my background as it was on my screen. I love this technique!!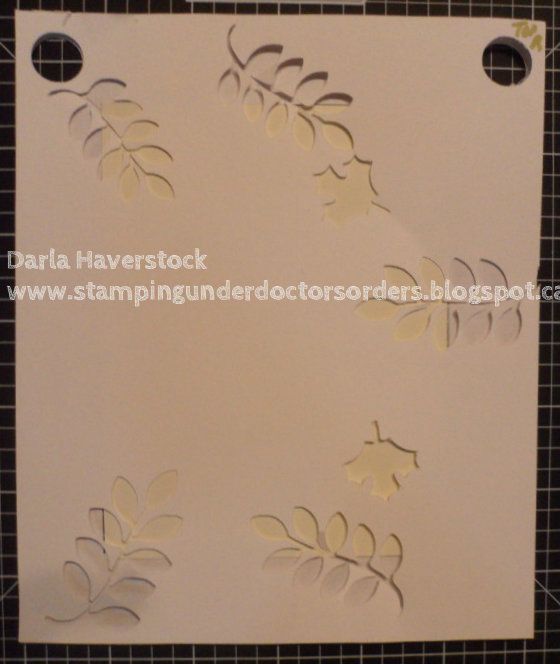 Then I removed my barn red stencil and put my stencil from the yellow layer on lining it up with the circles again I then sponged my
Goldrush
ink through the stencil.
You can see my barn red one off to the side here after I removed it and my Goldrush one still in place but after I inked it.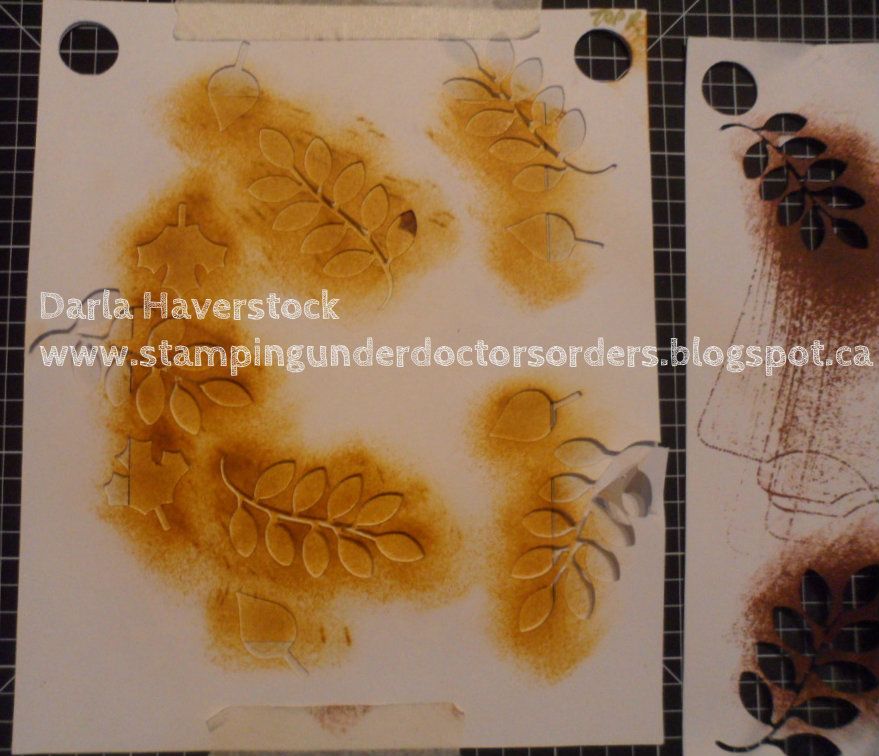 NOTE: you do not want to rub your sponge dauber but rather use a stippling straight up off your stencil and then straight back down.. if you rub then you will distort your stencil.
Here's the finished background piece still in the placement holder after removing my goldrush stencil:
Finished project again: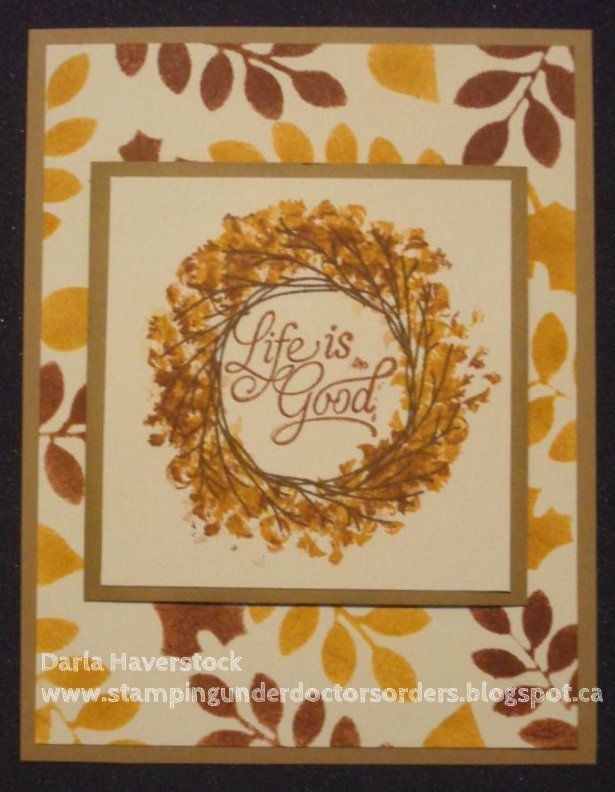 The next stop on your trail of falling leaves is Diana - Dianas Free Moments
Products Used:
Here's the entire blog hop lineup in case you "fall" off the path:
Lucy's blog - Love 2 Create
Darla - Crafting is Contagious
Diana - Dianas Free Moments Go here next
Stephanie - The Quilted Scrapper
Amie - Mimi, Myself, and I
Jennifer - 4 Hearts Scrapbooking
Rebecca - Stamp and Scrap Studio
Kindred Hearts - It Makes Total Cents
Theodora - Celebrate Crafts
Arlene - Arlene's Creative Space
Amanda - Scraps Of Love
Priscilla - Priscilla's Paperie
Ginger - Ginger's Creative Cottage
Michelle - My Flights of Fancy